December is prime season for giving. All the holiday shopping for those special people in and out of the workplace. All of the charities that could really benefit from your end of year donation.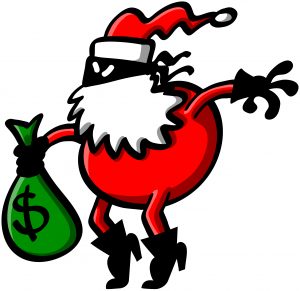 But what many overlook when the holidays come around is the fact that scams actually increase during the month of December. Cybercriminals exploit your excitement for holiday festivities and charitable spirits, leading to upticks in personal identity theft and business data breaches.
Today, I want to walk through some of the scams that we've seen popping up this year. For a refresher on what scams tend to look like, see our previous discussion of how to avoid scams.
Fraudsters are looking to steal your money, identity and cheer, so never trust too much (especially online) and always verify facts before taking action.
Here are some of the cybercrime scams reaching users this season and some tips on how to stay cyber safe:
Gift Cards—the fake $50 Amazon gift card scam has started circulating throughout the US. With this scam, you will find a pop up add on your web browser or a phishing email in your inbox directing you to a site supposedly where you will be able to redeem a $50 Amazon card. The site is cloned to look like Amazon, but as you enter your personal information and financial data, the thieves behind the scam are stealing your identities!
Also, criminals are looking to directly steal Amazon card funds as well. They will copy codes off the back of gift cards before they're purchased and then wait for them to be activated to drain the funds.
Security Tip: Understand that Amazon doesn't send e-mails that ask for your Social Security numbers, bank account information, PIN or Amazon password. Avoid these emails and delete any that seem to be phishing information from you.
As for Amazon gift cards (and any other gift card purchases), try to purchase gift cards from behind store counters (where scammers can't get ahold of them) and if you are holding onto expensive gift cards, ensure they're still loaded. Don't buy gift cards from third parties.
Fake shopping apps—there are a growing number of fake cloned shopping apps circulating on the web that actually link to malicious websites designed to steal your personal data.
Security Tip: Avoid third-party apps. Use trusted websites to download apps from reputable websites. Many downloads can contain viruses or malware. Either download apps from an official app store or from a reputable site. We suggest using Ninite.com if possible. Check reviews for apps before clicking that download button.
Phishing emails and e-cards—be especially cautious this month when looking at online promotions in your inbox. These incentives may be for a deal of a lifetime or exclusive offer, but many of these offers are sheltering phishing attacks. If you click that link to that deal, you're likely installing malware!
Security Tip: Avoid clicking on links or attachments in emails except when you are expecting them (that goes for social media as well!).
Travel deals—when it's cold outside, we're all thinking about traveling to warmer weather. Family and friend visits are also top of mind. But before booking that too good to be true deal for that amazing vacation package, reconsider. Scammers are cloning travel websites with intent to steal your personal information.
Security Tip: Avoid third party booking sites. Instead, use official websites to book holiday travel. Make sure the site url has an https (NOT just http protocol). When traveling, avoid public WiFi connections in hotels, especially when doing online banking or working on sensitive documents for work.
Charity Frauds—You likely are in the mood to do some good before 2017 closes. Like many, December is a good time to give to charities that are near and dear to you. But this is also prime time for fake charities to pop up exploiting your charitable nature. Be on especially high alert for fake charities, sending you emails or print letters or that are dialing for dollars this year.
Security Tip: Research your charity before donating. A couple good charity checkers are charitynavigator.com, or the Better Business Bureau website. If you plan on making contributions, go to a charity's official website by typing the URL into your browser or by calling a published number from their website.
I wish all of you a safe and cyber secure holiday season. If you have any concerns about your business security, don't hesitate to give us a call!