Hands down, relationship-building is a key to success in any organization. And that includes IT Support! If our team isn't engaging with users, making them feel comfortable with us, don't you think their experience with technology at work—specifically in ways they can help keep your business' network secure—suffer?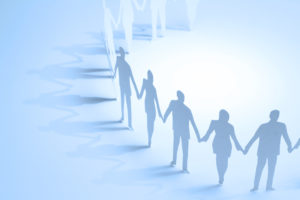 If they are in fact concerned about your security, most IT Departments and Managed Services Providers stress out over the nuts and bolts—hardware and software—on your networks. Some may send out impersonal emails warning users of the latest attack (if you're luck!), but without getting to know users and establishing a healthy working relationship with them, your business may be turning your biggest assets (your team members) into your biggest liabilities (phishing victims, password violators, sensitive data leakers) without even realizing it!
First, what do I mean by a strong relationship?
When I train my team to interact with clients, what my goal is for them to connect to your users on a personal level. Aside from alleviating computer headaches and making sure they are trained to identify threats to your network, I need them to establish understanding and trust with each and every user.
Once they forge strong relationships with your team—especially establishing a foundation of trust—getting users to open up about their issues at work with technology and getting them to understand and modify risky behaviors that open doors to hacks and attacks, will your business be functioning the way you want it.
User satisfaction actually increases productivity— the numbers reveal that happy people are more productive. One of the most frustrating about work is related to technology and mediocre or insufficient tech support. By creating an environment where users feel comfortable and self-assured that their issues will be resolved quickly AND by people they consider more than simply the help desk guy, we help make technology less frustrating for your team and eliminate their computer headaches so they can focus on their responsibilities.
User engagement improves network vulnerabilities— telling someone what to do doesn't always lead to them doing it well. This is definitely the case when telling users what NOT to do on your network. Rather, by engaging your team during every interaction—on site or on the phone and connecting with them, we have seen network risks nearly eliminating at our client sites. Users are more involved in their security because they understand what's going on, they trust the technicians working on their network and they are more eager to help us help keep your business safe.
User trust improves your operations— trust is the product of forging and maintaining relationships with your users. We have found that user trust not only keeps your network safer, but also improves your overall operations. Users that trust their IT Support team will submit tickets and report issues faster and will rely on our expertise rather than trying a DIY approach to resolve tech issues, which not only prevents them from fulfilling their responsibilities, but also risks them poking holes in your network security.
More often than not, IT companies focus on issues, but never even think about making connections with users.
IT technicians need to establish trust and make users feel comfortable working with us. If not, we often waste time because communication barriers will prevent them from getting at the heart of issues quickly and may leave users uninformed as to the latest security risks.
How do we build rapport with our users?
While for many people in the healthcare field, building rapport comes naturally, in information technology relationship building takes work and training. While technicians are naturally interested in resolving computer issues, they often overlook the human side of IT support—communication, empathy and helpfulness that considers user situations. What we do is develop these skills within technicians so they can each build rapport with your entire team.
At Dynamic Edge, our core values engrain a team-wide mentality to gain user trust above everything else. Trust not only makes users feel like we've got their backs—preventative maintenance, security patching and firewall protection to protect against the latest malware attack, but also that assures them we will handle their issues—large and small—if one were to arise.
To give you an idea of how we integrate our core values to focus on your users and their experience with us, below is how our 6 core values relate to user trust:
We Are Enjoy Helping
We Are Excellent Communicators
We Are Tenacious
We Prevent Emergencies By Eliminating Time Bombs
We Learn From Our Mistakes
We Are Disciplined
How do we build momentum within our team to ensure they are focusing on users and sticking to our core values?
The entire team acknowledges and commends customer-centric acts that represent our values. On a daily basis, emails and shout outs are given to team members that have helped clients (and peers) by channeling our core values. We all have responsibility to hold everyone accountable to up hold Dynamic Edge's reputation of completely eliminating user issues. And a big part of figuring out heart of problems is sticking to core values and relating to our users.
Empathy is a critical component to making our team successful (and your team safe and assured). Relating to users is critical before diving in and resolving an issue. A minute of conversation can make all the difference—help our techs figure out the nuances or issues and gain user trust that we have the ball resolving their issues, rather than being annoyed or irritated that they've been on hold or are just another number in the system.
Even more important than initiating foundations of a trusting relationship between technicians and your users is maintaining that relationship across our team. We make sure our entire team focuses on People Process AND Technology. Having the 'best' software and hardware is meaningless if we aren't thinking about how people utilize it. By identifying ways to better connect and communicate with users, our aim is to focus on creating an environment that emboldens users.
IT Help Desks should try to relate to users on a personal level— one of my favorite TV shows is Cheers. Why? I loved how everyone in the crowd was special and unique. How we got to know every single customer in the bar. That's how I think of IT Support. We need to get to know every face in your organization. We emphasize face-to-face interactions with your users and encourage our team to find ways to relate to your users so that they feel like they're part of our family (NOT just another ticket number that needs to be closed by the end of the day or another problem that needs to be fixed).
Over-communication as a way to make users understand their issues are being handled— we've found that reaching out to users by phone to talk through and identify the root of an issue is much more effective than simply using user descriptions as a means to diagnose a problem. More often than not, your IT Support team will use a user's description of a problem to resolve an issue. The problem with this method is technicians may never understand why a user has an issue or why a problem is recurring. They don't understand the context to the problem, which makes it near to impossible to resolve. Most IT Support companies don't train their teams to over communicate with users—to find learn about a user's issue in detail and to communicate updates with them—out of fear they don't want to be bothered.
Business Technology Managers as client advocates— when your business has to deal with IT Support, you often have a point person within your company managing that company. That point person has your best interest, but other than the sales guy from your managed service provider—who talks a good talk, but has no clue how to walk the walk—you have no one that really takes your interests to heart. We have found that having someone on our team, whose mission is to represent your interests, attend your monthly, quarterly or annual strategic sessions and make sure your IT infrastructure and support is meeting your business objectives, makes all the difference to your business success.
Most IT Support companies have sales guys pitching more stuff, but leave you unsure whether you really need it. Or they tell you one thing and do another. Having seasoned technology experts that understand strategy and keeping our team accountable to giving your team exceptional service helps us with our mission to deliver incomparable service.
Does Your IT Support get to know your users? Do your users trust what they have to say and that when they say they'll get something done, they actually follow through? Are you confident that they are doing everything they should be to keep your business network safe? Contact Us TODAY for a FREE network assessment!