As a business owner, I am constantly putting a magnifying glass to all of our expenses, trying to see if we really need something or if there's something better worth investing in. Many people may think "I don't need a new computer" even if their machine is getting hard to work with. What I want to underscore today is that you really need to know when to invest in new hardware because old machines may be costing you more money than you'd ever suspect!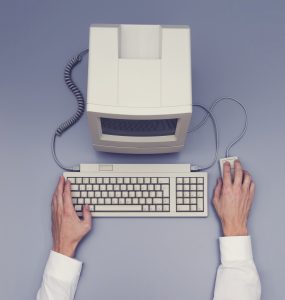 When should I replace an old machine?
Generally, our rule of thumb is that after 3 years, technology has evolved to the point that any hardware older than 3 years will leave your business at a disadvantage. The cost of ownership on that machine grows to the point that it's really not a feasible option to hang on to the old dated hardware anymore. Today I want to walk through why using old machines for business work can be a liability.
Below are 5 costs to consider when thinking about investing in hardware.
Increased Downtime up to 62%— when you defer purchases of replacements machines for old computers and servers, you often face significant downtime. That means, as I'll elaborate below, lost productivity, lost return on employee wages, and greater customer wait times. Every year after 3 years, the amount of downtime your users will face day to day will increase by 62%. If that's a critical server, will the cost of investing in new hardware outweigh the expense of replace an old time bomb? And what about each and every user's workstation? Investing up front in reliable hardware can mean significantly more work time than you'd think about if you evaluate all the hidden numbers!
Repair Costs Increase—old computers and hardware tend to cost more than newer machines. First off, a new machine will be covered by a warranty in case something goes wrong (your old machine won't have any guarantees). And on top of any warranty, older machines take longer to fix because technicians lose familiarity with their mechanics (they've learned how to efficiently fix newer models and may either have less experience or be hard pressed to find parts of older machines).
All of this boils down to more wasted time and bigger repair costs! A recent study found that on average, businesses lose 42 productive work hours a year for wait times on repairs to be completed. That's at least $800 in productivity lost simply because your team is waiting on fixes!
You May Be Risking Your Business Security—PCs older than 4 years are 5 times more likely to be susceptible to an attack. And one of the biggest reasons is because old machines are either hard to update or can no longer be upgraded to accommodate newer security technology. Cybersecurity breaches may range in the tens to hundreds of thousands of dollars. Just to have a required forensics evaluation (a requirement of most insurance firms), you'll likely shell out $15K per computer affected!
Your Old Machine Is Simply Too Slow—as software gets more sophisticated with more features—even basic Windows Office platforms or web browsers, your users face growing headaches from slowness. You will have a hard time running two applications at once. Can you imagine not being able to have a spreadsheet or Word document open while browsing online or doing email on Outlook? Does it take a half hour for Windows to boot up in the morning? If your users have old slow computers, this is likely what they face every single day.
What Will Your Clients Think?—if you have old crusty computers strewn throughout your office, what impression does that have on your clients? How comfortable do you think they are that their sensitive data are safe on your systems? Will visiting your office leave them with a bad feeling? What many business owners don't always realize is how much value new equipment has to making new business or retaining existing business.
If you had to buy a new car today and you talked to two fellas—one in a brand new black suit and one in a 1970's suit that was completely worn out, who would you likely want to buy from? If you frequently have clients through your office, you may want to consider investing in new equipment just to set a good impression.
How can you tell if your computers are too old?
If you're a Dynamic Edge client, our Business Technology Managers are constantly evaluating your network and proactively making recommendations to save you money and keep your team productive and safe. They are on the look out for rogue machines keeping your team underperforming and insecure.
If you're NOT a Dynamic Edge client, but concerned about your team's productivity and security? You should at minimum evaluate your IT infrastructure once a year (although we recommend doing this quarterly just in case you need to plan ahead for your future IT expenses) and be prepared to invest in hardware infrastructure in the 4th quarter of the year (if possible) to take advantage of Section 179 benefits that will save your business on expensive taxes for 2017! (If you aren't sure what needs replacing or how to maximize your hardware, contact us for a FREE hardware roadmap meeting to evaluate where your critical investments should fall).
So let's recap…
Are you willing to forfeit lost productivity, greater repair costs, more downtime, and a tarnished first impression all because you're holding out on updating a computer that could cost you less than all the costs associated with an old machine?
Do you realize that most new machines come with a 3-year warranty included? If you're a Dynamic Edge client, contact your Business Technology Manager to find out how to optimize your IT spending on new hardware. If you're not a Dynamic Edge client, contact us TODAY to find out where you can save money on your IT Support while leveraging the best technology for your business needs!