Do you have operating controls in place to protect confidential data?  Can you pinpoint where your confidential data goes inside AND outside your office?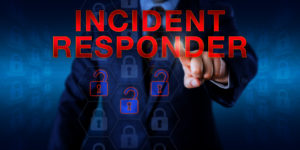 Have a documented process to ensure continued confidentiality of your data?
If you work or even touch confidential data—including ANY personal identifiable information (PII)—EVEN Remotely—you should be taking steps to ensure your data is secure and not at risk of being exposed from a hack, leak or theft.
You need an annual security assessment to make sure your business is doing everything possible—taking necessary and critical precautions and preventative measures—to keep your data safe.
Use The Results From This Assessment To Improve Your Business! In Addition to Conducting the Risk Assessment, Our Security Officer (CISSP) will help identify a Remediation Roadmap Strategy to Any Compliance Issues, Help You Identify Safeguards and Procedures To Gain Full Compliance.
Our Security Assessment Process Is Simple:
Step 1: Cyber Risk Scope Analysis— ensures that all of your sensitive data and potential security risks are well-defined before evaluating your preparedness.
Step 2: Cyber Security Readiness Audit—helps ensure any initial gaps in security are identified, and furthermore, that appropriate corrective actions are developed.
Step 3: Cybersecurity Remediation—helps you identify specific efforts to completely address any security gaps or concerns.
Step 4: Cybersecurity Assessment—fully encompasses your security assessment, including any regulatory demands (if applicable). You are provided with a complete examination of safeguards, with identified security vulnerabilities to focus and prioritize your on-going security efforts.
In case you need more detail on what specifically is covered in our tactical security assessment, here are some of the critical components reviewed in the assessment:
Administrative Safeguards—having strong administrative guidance and enforcement of security policies ensure sound business security. Failure to ensure proper administrative safeguards leads to holes in your network and increased likelihood of hacks, phishing attacks and data leaks. We focus on your internal security, your policies, your procedures, and how you maintain security of sensitive data within the entirety of your organization.
Audit Your Active Users—unmonitored and unsecure user accounts are typically ground zero for cyber attacks. In this assessment we evaluate each user account, determine if any accounts remain active, evaluate any risks associated with specific account set up and look for any loose ends or unused accounts on your network.
Ensure Regular Backups Are Being Performed—disasters—power outages, floods, tornados, hacks, ransomware—all happen when you least expect them. With regular TESTED offsite backups, your business will be able to restore within a few hours of the disaster from anywhere. We make sure your business is (1) backing up all critical information and (2) test those backups to evaluate whether your backup process is sufficiently working to completely restore your network if you need to.
Provide Security Documentation—in the event your business needs documentation for insurance purposes or to prove to a regulatory agency that you have successfully completed an annual security audit, we provide necessary documentation.
Log Auditing— one of the fastest ways of determining suspicious activity on your network is by analyzing your network logs. We use sophisticated heuristic-based algorithms to detect any patterns of suspicious activity on your network.
Walk-Through To Identify Vulnerabilities—there are countless unsuspecting risks hidden in plain site within the confines of your office. Mobile devices and laptops that walk off premises, important electronics placed in risky places—temperature controls and proximity to sprinklers. We evaluate your office and key in on a prioritized list of fixes to ensure your data is secure.
Physical Security Practices—most businesses have started to solely focus on cybersecurity and network threats nowadays and overlook some of the easiest ways data can leave your building. We evaluate your physical security practices in effort to direct your attention on easy improvements that can make a big difference when it comes to physical security. What is locked, when and who is responsible for overseeing it. Who has access to the office—afterhours? How do people gain entry to your building and locations where sensitive data is stored? Do you have cameras in place and operational? Where do you store footage and entry logs? Who has access to that information?
Technical Safeguards— if you have an internal IT Department or a Managed Services Provider, they likely are overseeing your technical safeguards. But what they often cannot do is properly audit themselves. We have certified security officers (CISSPs) that are experts in evaluating business security, specifically trained at evaluating technical safeguards.
Why Not Take The Pain Out Of Your Annual Risk Assessment? Contact Us Today to find out how you can turn headache-ridden security assessments into simple, reliable and comprehensive roadmap to give you that much needed peace of mind?